Kung Fu Accounting was the world's first ICAEW Chartered, BCorp certified accountant. We've edited our articles of association and signed the BCorp Declaration of Interdependence to indicate our intent to make a positive impact in the world, acting for people and planet as well as profit.
Transparency is a key part of the BCorp certification, and we need to make our commitments and our impacts visible to the public. It's also important for us as a team to take stock and appreciate what we've achieved. So this post is to share that with you.
We hope you're as excited as we are to read about the commitments we've made and our impacts so far, as well as the future impacts that are possible from running a business as a force for good.
And if you'd like to join the conversation, follow us on Twitter or LinkedIn.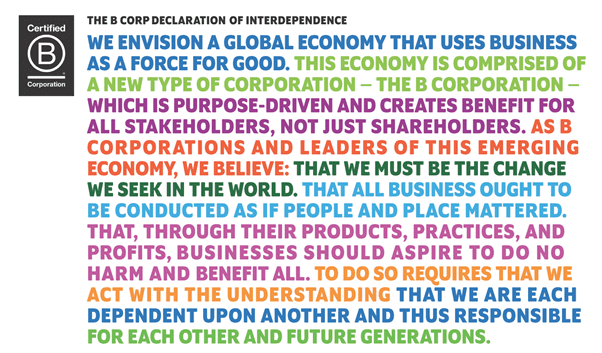 Our commitment
Using our business as a force for good starts with charity donations. We're committed to donating 5% of our turnover (not profit, which can be manipulated as we accountants know all too well!) to causes that are important to us.
These include charities, individual projects, or even one-off events that resonate with us as a team as being something we would like to support.
Some of our impacts
In 2019/20 we helped Read for Good develop their corporate gifting model, being the first organisation to go through their pilot programme. This set off a wonderful chain of impacts, as a result of us working together.
Earlier this year we helped Sunflowers Suicide Support, a fantastic local charity providing valuable services supporting the bereaved, with a one-off donation to run a counselling service for a year.
We give dignity to a child in care every time we submit a personal tax return. Since introducing this scheme we've donated 113 bags.
Our world exclusive (as far as we know!) Ethical Payslip service was born in September 2020, and in the 13 months since then we've had over 33,000 positive impacts around the world.
And there are many other initiatives we've supported, particularly through lockdown, like donating meals for the vulnerable via our friends at The Long Table, or giving hats for the homeless.
Our time and expertise
Giving, and having a positive impact, is not always about money, and we know that our time and expertise is often just as useful. So we often take on pro-bono work, or provide free training and advice for anyone.
In the past we've held drop-in clinics for anyone to ask us anything about accounting and tax – something we're keen to reintroduce when the pandemic allows.
We have also given our time for non-accounting projects; litter-picking in our local neighbourhoods, organising winter clothing donations for homeless outreach programmes, and collecting food parcels.
Is there anything else?
Well, thanks for asking! Our amended articles of association require that every decision we make as a business must be assessed for its impact on our community and the environment, as well as being a good financial decision.
So for example, our purchasing policy for IT equipment is to "never buy new". Reconditioned IT kit works beautifully, and means we do not incur the environmental impacts embedded into the production of new machines; we're reducing our consumption of raw materials by using second-hand items.
Then, our general purchasing policy dictates that we must try to buy locally. Less than 5 minutes (by bike!) from our office is The Webworks, a fantastic independent company that sells refurbished computers and laptops. By giving that company our money, we're benefitting our community directly, supporting jobs in our beautiful hometown.
Lastly, and from a business perspective, buying refurbished equipment is often cheaper than buying new. Win, win, win!
So buying reconditioned IT equipment ticks all the right boxes, and allows us to use our business as a force for good in our local community, reduces our environmental impact, and makes good business sense!
Purpose over profit
In trying to deliver accountancy in a purposeful way, we've developed a number of new initiatives like our Ethical Payslip service and Read For Good's Big Read, and we're challenging ourselves every day to work out how to build even more positivity into our "business as usual"!
We love what we do as accountants, but to quote Ella Fitzgerald "Tain't what you do (it's the way that you do it)!" – and doing business in a way that makes a difference really gets us excited about coming to work!
Over and above the protection you need from your accountant to keep you legal, working with Kung Fu Accounting guarantees that you'll have a positive impact in the world.
So if you'd like to join the ranks of our fantastic clients, fill in this form to give us some background details, and together we'll become a powerful force for good!